Le Bal des Intouchables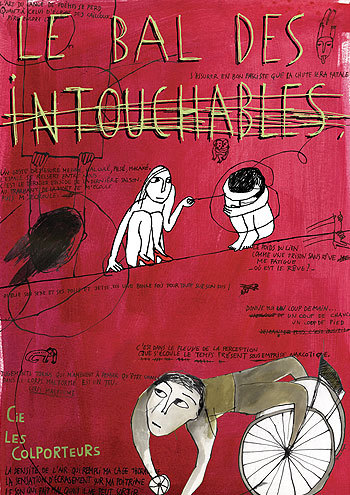 création 2012 | Unavailable
Under the tent, the show starts with an odd stage entry which forebodes the notion of untouchable.
Throughout the show, it is a symphony of possibilities that the artists show, as they escape what seems impossible in principle. At the beginning, the group is like a procession, then, gradually, they all play their part, free themselves from the collective, slip away high up, venture to be free and to fall, in order to go back to people with new movements to offer.The singular destiny of Antoine Rigot is at the heart of the piece only this time with a new aim, boosted by this immersion in an artistic team offering solos, duets, trios and reunions expressing vitality, malice, cruelty, dreams, failures, insolence, risk, virtuosity, generosity, wisdom…Often Burlesque, the Bal des intouchables tells us of eight people, young and old, slight and handicapped, agile and fragile. Les Colporteurs have successfully combined movement and emotion, brought forth a mastery of the art and the transmission of experience.
The musicians play a full part in the drama, first as part of the scene and then accompanying around the edges. Their role contributes to ensuring that a solid thread stretches through the entire performance. This production is the result of a work focussing on the discovery of the self and of others and the attempt to accept the differences which govern us, distance us and bring us closer together. Freeing itself of conventional images, the show praises the chosen skill and the poetry of slow motion.

Excerpts from a text by Claudine Dussollier 13 September 2012
"Le Bal des intouchables is a a series of acts for thirteen acrobats and musicians, technically splendid, unusual and with fierce intensity. With a permanent gravity, a deep harmony as a back-drop."

- Rosita Boisseau - LE MONDE – 08/11/2013
Dates of the show
Currently, there is no new date for this show.\For more information about the next dates or if you are interested in this show, please contact us.
Casting :
Directed by Antoine Rigot
Conceived by : Antoine Rigot, Agathe Olivier, Cécile Kohen
With : Tatiana-Mosio Bongonga, Gilles Charles-Messance, Sarah Cosset (role created by Balthasar Moos), Aloïse Sauvage (role created by Pauline Dau), Mosi Espinoza Navarro (role created by Aourell Krausse), Karl Heinz Lorenzen, Natalie Oleinik, Agathe Olivier
Musical composition and interpretation : Boris Boublil, Guillaume Dutrieux, Antonin Leymarie, Coline Rigot
Musical Interpreters : Xavier Bornens, Csaba Palotai, Emmanuel Penfeunteun.
Scenography : Patrick Vindimian
Scenography playlets : Nadège Renard
Lights : Thomas Bourreau
Costumes : Hanna Sjodin
Technical direction : Nicolas Legendre
Main manager : Bernard Molinier
Lights manager : Stéphane Mara
Sound manager : Sylvain Vassas-Cherel
Construction : Sylvain Georget, Thomas Khomiakoff, Sylvain Vassas-Cherel
Assistants costumes : Camille Lamy, Léa Delmas, Léa Gadbois Lamer
Production/Diffusion : Sébastien Lhommeau
Production/Administration : Fanny Du Pasquier
Partners :
Production : Les Colporteurs
Co productions : Cirque-Théâtre d'Elbeuf, pôle national des arts du cirque ● Parc de La Villette ● Théâtre Vidy-Lausanne ● Théâtre de Saint-Quentin-en-Yvelines scène nationale, avec le soutien de la communauté d'agglomération de Saint-Quentin-en-Yvelines ● Le Carré Magique de Lannion Trégor, pôle national des arts du cirque en Bretagne ● Marseille Provence 2013, capitale européenne de la culture ● Le Channel, scène nationale de Calais ● Bonlieu, scène nationale d'Annecy ● La Ferme du Buisson, scène nationale de Marne-la-Vallée ● Imagine 2020 / EPCC Le Quai, Angers ● Cirque Jules Verne, pôle national des arts du cirque d'Amiens ● Théâtre Anne de Bretagne de Vannes, scène conventionnée ● La Cascade, pôle national des arts du cirque de Bourg-Saint-Andéol
With the support of : Théâtre de la Coupe d'Or, Rochefort ● Ecole Nationale d'Architecture de Nantes / GERSA ● Ministère de la Culture et de la Communication - D.G.C.A ● Fonds SACD Musiques de scène ● ADAMI.

The company Les Colporteurs is supported by : the Ministery of Culture / DGCA, and is recognised as "national company ». The company is funded by : DRAC Auvergne Rhône Alpes, la Région Auvergne-Rhône-Alpes, le conseil départemental de l'Ardèche and is supported by the city of Le Teil d'Ardèche.