Le Fil sous la Neige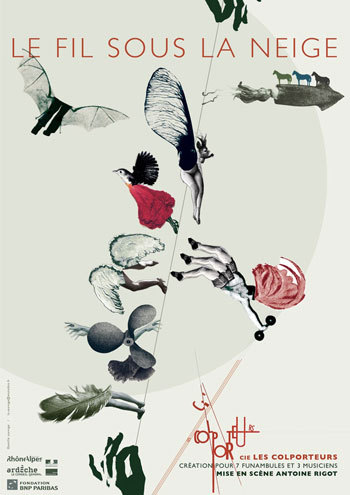 création 2006 | Available
For the very first time, seven exceptional tight wire artists are brought together under the arc of the circus tent. Above and beyond their technical mastery, they have given birth to a sensitive, poetic aerial choreography, a harmony of seven beings. This show, in a very particular way, is an autobiographical one. It begins with Antoine Rigot, crossing the ring. Antoine, the virtuoso artist, who survived a terrible accident 17 years ago. This is his story told through their prowess. Their ethereal dance recounts the transience and fragility of our lives, mankind's wishful and awkward existence, and leaves us captivated, fixated on their every movement.


"With Le Fil sous la Neige, the company Les Colporteurs created an exceptional show which is also a wonderful tribute to entertainers" Ariane Bavelier - LE FIGARO - 13/12/2008

"Definitely one of the most beautiful circus shows in recent years, as it is moved by the necessity of a man who, as seen when the curtain rises, must fight against disability every step of the way" Maia Bouteillet - LIBERATION - 16/12/2008
Dates of the show
Currently, there is no new date for this show.\For more information about the next dates or if you are interested in this show, please contact us.
Casting :
Director : Antoine Rigot
Assistant director : Cécile Kohen
Tightrope walkers : Florent Blondeau, Sanja Kosonen, Andreas Muntwyler, Agathe Olivier, Julien Posada, Molly Saudek, Ulla Tikka
Music : Boris Boublil, Antonin Leymarie, Rémi Sciuto
Scenography : Antoine Rigot
Sound designer : Stéphane Comon
Lighting designer : Thomas Bourreau
Costumes : Florie Bel
Stage constructor : Patrick Vindimian, Sylvain Georget
Technical director : Nicolas Legendre
Lights engineer : Thierry Azoulay or Thomas Bourreau
Sound engineer : Stéphane Mara

Production/Diffusion : Sébastien Lhommeau

Production/Administration : Fanny Du Pasquier



Partners :
Production : Les Colporteurs
Coproductions : Théâtre Firmin Gémier, scène conventionnée d'Antony ● Culture Commune, scène nationale du bassin minier du Pas-de-Calais ● Cirque-Théâtre d'Elbeuf, centre régional des arts du cirque de Haute Normandie ● Agora, scène conventionnée de Boulazac ● Circuits, scène conventionnée Auch Gers Midi Pyrénées ● La Ferme du Buisson, scène nationale de Marne-la-Vallée ● Le Manège de Reims, scène nationale ● La Verrerie d'Alès en Cévennes, pôle cirque Région Languedoc-Roussillon ● Service Culture du SAN de l'Isle-d'Abeau ● Le Parapluie, centre international de création artistique d'Aurillac ● APIAC, association de préfiguration de l'institut des arts du clown de Bourg-Saint-Andéol ● Cirque Jules Verne, pôle régional des arts du cirque, Amiens Métropole.
With the support of: EPPGHV La Villette Paris ● Festival Furies, Châlons-en-Champagne.
and with the support of Ministère de la Culture et de la Communication - DMDTS ● SPEDIDAM.