Méandres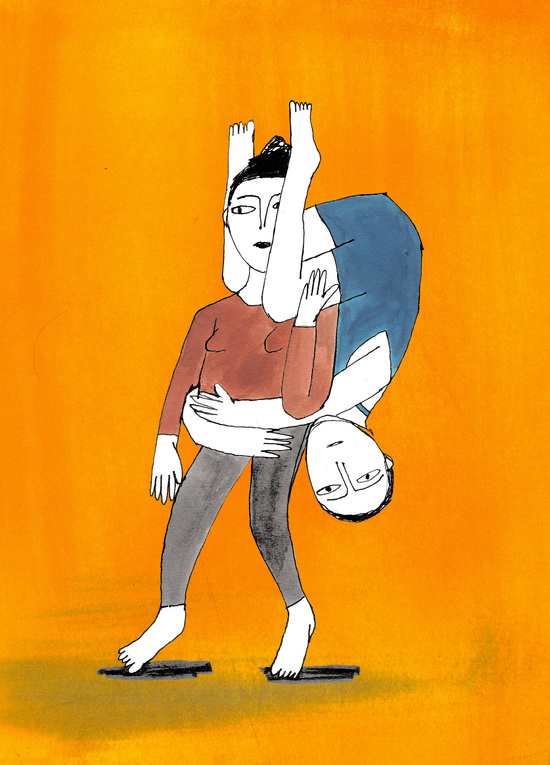 Creation 2018 | On tour
In the distance, a woman seems to float through the crowd. Approaching, she was discovered sitting on the shoulder of another woman who placed her on one of the wires in the star-structure and went to sit in her centre. Sitting there, at the foot of the mast, pensive, isolated as on a deserted island, she takes the time to feel and listen, what happens in her body, in her head... Is that her breath ?
On the cables around her, the body of her imagination is set in motion, in a minimalist dance.
She observes it, doesn't resist to follow it, to apprehend it; the encounter operates...

Sound creation
L'étoile-mât, structure on which the bodies move, is also musical instrument. Four pickups skillfully placed on the structure capture the vibration, shocks, friction of sliding hands and feet, the bodies of the artists on the wires and the pole. The quality of sound, and the universe created therein, allows us to approach this intimate and inner gaze, theme specific of the show. Looped, superimposed and mixed live, the sounds of these vibrations create the range within which the music is written and is created anew every show. A musical work of listening and dialogue between the artists and the composer.
Dates of the show
Currently, there is no new date for this show.\For more information about the next dates or if you are interested in this show, please contact us.
Casting :
Choreography and interpretation : Sandrine Juglair and Molly Saudek
Director : Antoine Rigot
Artistic Collaboration : Agathe Olivier
Music : Antonio Vivaldi, Tiziano Scali
Costumes : Anaïs Clarté
Technical Direction : Pierre-Yves Chouin
Scenography : Patrick Vindimian, Antoine Rigot
Construction : Patrick Vindimian, Sylvain Georget


Partners :
Production : Les Colporteurs
Coproduction : La Cascade, National Circus Pole, Ardèche Auvergne-Rhône-Alpes • Regional Circus Pole, Le Mans • Les Subsistances, Lyon. Residences : La Griotte, Circus Trottola • La Cascade, National Circus Pole, Ardèche Auvergne-Rhône-Alpes • Regional Circus Pole, Le Mans • The Subsistances, Lyon • Platform 2 Circus Poles in Nomandie, La Brèche in Cherbourg, Cirque-Théâtre d Elbeuf. Support SACD & Fratellini Academy, Processus Cirque.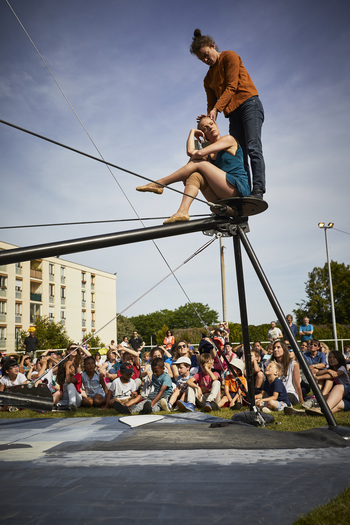 Photo gallery
Downloads