The Circus Tent (show)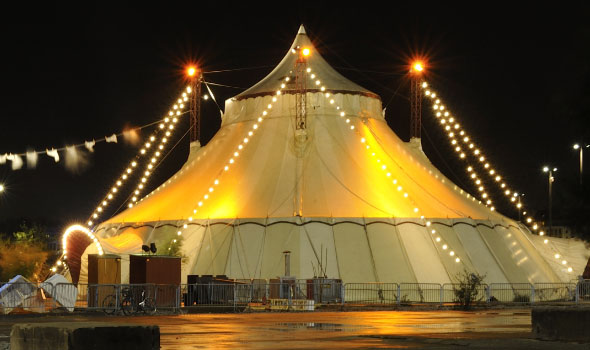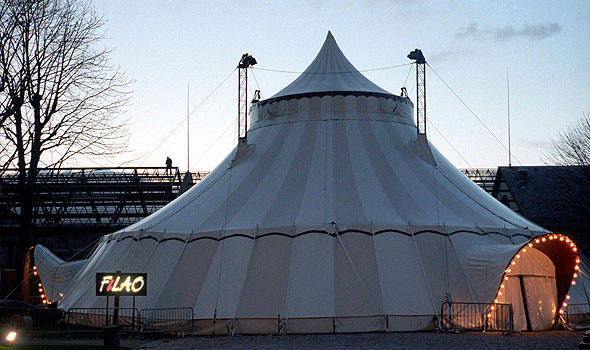 Our circus tent was built in 1997, it is circular with 4 poles.
Outside colours : sand and champagne
Inside color : vinous
Its first specificity is its 9.90 m high round-shaped dome with an 8.5 m diameter, which offers an unusual air space.
It is equipped with 7 round-shaped rows of seats, with a 500 seat capacity (depending on the shows) whose important slope offers great comfort to watch the shows. 8 seats for disabled people available.
Finally, the awning surrounding offers sheltered circulation for the public, behind the seats, and contributes to the specific shape of our tent.
Technical sheets and drawings are available here
technical elements
Ground area : 660m2
Security perimeter : 38m diameter
Pole height : 12.5 m / Dome height : 15m / Side pole height : 4m
Distance between 2 poles : 8m / Diagonal between poles : 12m
Size : round-shaped 23m + surrounding awning (3m wide), i.e. 29 m diameter overall.
We are completely independent concerning the safety and security conditions necessary to welcome an audience : emergency exit spots, fire extinguishers, a megaphone and emergency lighting.
The circus tent and rows of seats fit in 2 16-meter long 32-ton semi-trailers.