The Stars on tour 2019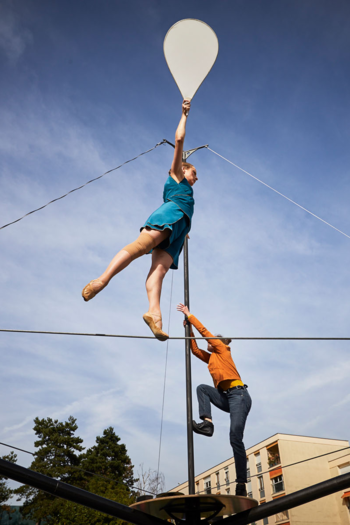 As a poetic and meaningful object, the structure-sculpture "Étoile" (Star) was created in 2007 out of the complicity between tightrope walker Antoine Rigot and set designer Patrick Vindimian. L'Étoile has become a source of inspiration, the world of several short tightrope shows which make up an original corpus, while they each have their own specificities.
Today the following are available on tour : Le Chas du Violon created in 2015 tells the reunion between a mother and her daughter, performed and danced with humour to the pace of the soaring violin; Évohé, created in 2016, is the story of a danced seduction interspersed with acrobatic mischief; Méandres, created in 2018 is firstly the technical evolution of the Étoile structure, as a pole was added in its centre. While verticality and horizontality meet, it is the story of an introspection, a dialog between a woman and her conscience...
- Le Chas du Violon (2015), Read the file
- Evohé (2016), Read the file

- Méandres (2018), Read the file

See the page of the show
Back